Who am I
Let me introduce myself at first. I'm Aeron Dullaert, passionated by the rottweiler as a great breed with great capacities. Here is my story.
I started as a young boy with training my first rottweiler, a female, for obedience. After 10 years living a happy-dog life, this dog died due to cancer, and the choice to buy another rott was an evidence. It was a young male-puppy. He was a powerfull young dog with a lot of capacities. For preparing him to the ADRK Ztp, and the Schutzhund program we travelled many times to Germany. After a while, he obtained his BH (Begleithundprüfung), ADRK ZTP (zuchttauglichkeitsprüfung), IPO 1, FH2 (trackingdog level 2). Now 6 years later, he can enjoy his easy life on the couch.
For a couple of years I was travelling around to go training on different clubs, to get used to different trainingtechniques and methods. Also as a helper/decoy I got more experienced by following several seminars in Belgium and abroad. Now, 6 years laters, we train on a club nearby in coöperance with the belgian kennelclub KKUSH, where all the working-dogbreeds are welcome. It makes it possible to give our dogs and the dogs bred by our kennel the best possible start in their training carreer.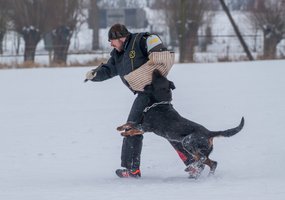 How I came to breed rottweiler
The years I was travelling around for showing and training my first male, I was able to learn more about the breed and the different pedigrees in the world. Speaking with german breeders, and going to different seminars gave me the intense knowledge to become more intense with the breed. After 5 years we decided to buy our first female. Now we own several females out of the best pedigrees in the world. We obtain clear health references before importing our dogs from abroad.
Our huge thanks go out to all our friends, who have supported us through the years, and made it possible to bring the dogs to a certain level at show or work.
Last but not least, we'd like to thank all the trainers (personal coaches and decoys) we worked together with. They made it possible for us to train at a high level and obtain nice achievements.
Where does our kennelname comes from?
Finding a name was the first thing we thaught about when we planned to start a kennel. We wanted to make sure that there was a clear sign in our kennelname, a kind of wisedom. Because I'm very much interested in the way the old indians lived and communicated with the animals, I loved to give an ' indian touch' to our kennelname. So I came to the Indian name 'SAHALE', concerning the knowledge and learningcapacities and character of the rottweiler. There couldn't have been a better link. So we called our kennel: VON SAHALES. Our kennelname is enregistred under FCI number: 84/11.
Our goal
We try to obtain in our breeding the most complete rottweiler. That means, a dog who has the looks according to the FCI breeding standard, and still has the capability to work with pleasure for his boss. In this complete package we may not forget that, if we'd like to obtain this double package, we need a healthy dog. That's the reason why we, in our kennel, only breed with dogs that have the needed health certificates for hip, and ellbows. Certificates obligated by the FCI, and KKUSH. This allows us to ensure that our breedingdogs fulfill to all the conditions of the FCI breedingstandard.
We hope you enjoy your stay at our website. And if you might be able to meet us at a show or working-trial, don't hesitate to contact us. We have already one passion in common... ROTTWEILERS!!!!
Kind regards,
Aeron
breeder